Update 1.1.1.1, aka the Bloodstorm update four new environments—playable in Endgame expeditions, and 13 environment variations, including charming additions such as the "blood-curdling swamp" and "the stagnant graves". There are also 30 new difficulty levels and, perhaps most importantly, pets will now pick up gold for you.
Added 4 new environments that can be played in the Endgame expeditions.

Aberrant Bluffs
Aberrant Halls of Adrastis
Infested Adrigion Woodlands
Infested Primordial Catalyst

We also added 13 new environment variants:

Adrigion Mud Pits
Autumnal Marshes
Blood-curdling Swamp
Bloodweed Battlegrounds
Emerald Halls
Halcyon Halls
Midsummer Haze
Polluted Plateau
Primaveral Mists
Shivering Wastes
The Stagnant Graves
Waylaying Plains
Windstruck Quagmire
Pets will now automatically fetch gold dropping from monsters, chests and destructible environments.
All Damage Type conversions can now be selected for free, therefore their damage increase has been removed. The 3 Modifier points they used to cost can now be attributed to other Modifiers.

Added an Aether Modifier to Avenger's Autoturret.
Added a Lightning Modifier to Blood for Blood.
Added a Lightning Modifier to Bullseye.
Added a Rend Modifier to Evasion.
Added a Fire Modifier to Havoc Orb.
Added a Sacred Modifier to Warpath.
Added a Shadow Modifier to Wings of Ishmir.
Sovereign Tier : Added 30 new difficulty level, the Champion of Stormfall Expeditions can now be played up to the level 217.
Items from level 211 and up cannot roll the lowest value affixe for each statistics
Added a new armor to Champion of Stormfall projects: the Neovivex Armour.
Mirrormaid Ship Building: All projects related to armor skin acquisition have been increased in cost and production.
The dodge roll now goes through enemies by default.
The Gate of Fates node "Slipping Shadow" now becomes "Evasion Velocity" : grants a 50% movement speed increase for 1.5s after performing a dodge roll.
Improved Skills VFX for several Skills:

Annihilation
Anomaly
Mark of Impurity
Tear of Etheliel.

Improved Monsters VFX for Monsters::

Fireblood Beta Spitter
Fury Spirits
Lost souls.
Adding a new Underling: The Purifier Warhound.
Improved animations for Underlings

Caves Omega Female Svriir
Fireblood Omega Female Svriir
Omega Female Svriir
Sea Omega Female Svriir.

Improved animations for Lieutenants: Alastor, Flayer Warmaster, and Justicar of the Republic.

Alastor
Flayer Warmaster
Justicar of the Republic.
Annihilation:

Base damage increased by 25%.

Anvil's Woe:

Base damage increased by 12%.

Artic Spear:

Damage of the skill reduced up to -12% at max level.
Comet Ballista: bonus damage reduced from +75% to +50%.
Sublime Fracture: malus damage increased from -20% to -30%.

Bladestorm:

Base damage increased by 12.5%.
Unrelenting Strikes: wave damage increased by 25%

Bleeding Edge:

Base damage increased by 12.5%.

Duskshroud:

Unseen Thrills: Bonus damage reduced from 20% to 15%.

Gunslinger's Brand:

Base damage increased by 33%.

Havoc Orb:

Base damage reduced by 16%.

Mark of Impurity:

Accursed Blade: Reduce the number of stacks inflicted from 10 to 5.

Slayer Flurry:

Base damage increased by 15%.
Fullered Blades: Increase the speed bonus given to the dash by 150%.

Stings of Krearion:

Base damage increased by 14%.

Talon Shot:

Base damage increased by 15%.

Wailing Arrows:

Base damage increased by 12.5%.
Serrated Arrows: slow potency increased from 20% to 30%.

Wrath of Bäapheth:
Fixed overall performance issues happening when applying certain buffs or debuffs to the player character.
Fixed performance issues happening when performing a critical hit while the unique shoulder "Edayo'or's Triumph" was equipped.
Fixed performance issues happening when using "Duskshroud".
Fixed an issue where dying to the Chapter 1 Boss could softlock the character by making the red portal to enter his arena unclickable.
Fixed an issue where the VFX and hitbox for the secondary entrance of the Tainted Primordial Superstructure would not match.
Fixed an issue in the Gate of Fates node "Blessed Silver"'s tooltip, it now correctly states that using a projectile skill consumes 1 "Annointed Ammunition" points instead of 5.
Fixed an issue where the Critical Chance, Ailment Chance and Resistances in the character sheet would not reflect the actual values during expeditions despite being computed properly in-game.
Clarified the description for the "Arctic Spear" modifier "Hiemal Ambush", it now correctly states that it can hold up to 3 spears.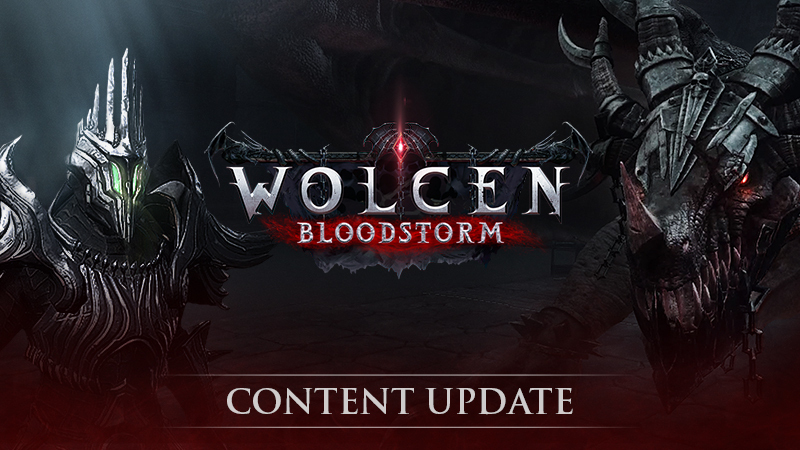 Bloodtrails first Content Patch
store.steampowered.com