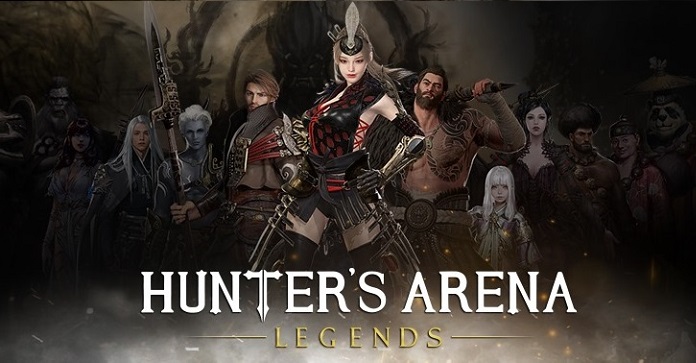 Online battle royale game Hunter's Arena: Legends, which first launched in Early Access for PC via Steam in July 2020, is coming to PlayStation 5 and PlayStation 4, developer Mantisco announced. A closed beta test is planned for May 14 to 15. Registration is available
here
.
Hunter's Arena: A New Era of Battle Royale

For those of you joining us for the first time, Hunter's Arena is a 30 player player-versus-player and player-versus-enemy combat based Battle Royale set in the ancient age of Demon Hunters. In this dangerous world, you will become a Hunter who must fight forbidden demons that started to appear as a long forgotten seal broke loose. Beware of other Hunters as well as it is no secret that the seal was broken free by no one other but one of your own, a Hunter. With no one to trust, you must defeat everything that crosses your path and bring an end to chaos in Hunter's Arena.

Player-versus-Player and Player-versus-Enemy

We are most excited about bringing you a fresh style of Battle Royale experience in our game. We focused on providing an experience that is enjoyable to both players who prefer engaging in player-versus-player and to players who lean towards exploring in a player-versus-enemy environment. In Hunter's Arena, you are not restricted to only fighting each other but you can also choose to enter high-risk, high-reward dungeons. You may encounter Boss demons and slay them to collect powerful items and level up faster than others in dungeons. We suggest that you choose your strategy wisely to gain the upper hand on your road to victory.

Characters

In the upcoming closed beta, you will be able to choose from 12 different Hunters each with unique and powerful skills and swordplay. We are excited to finally be able to show you our unique Hunters. A few of our team's favorite Hunters include Tau and Samjang. Tau is a Demi-Beast Hunter who can inflict massive amounts of heavy damage despite his cute furry look. Samjang is another favorite Hunter ours who is essentially a monk with an afro. He came to Hunter's Arena to bring peace to his people but look out, as his way of restoring the world includes summoning a giant Buddha's hand upon his enemies!

Combat That's Easy to Learn, Hard to Master


In Hunter's Arena, even players new to the game can easily engage in dynamic fights. However, as you face stronger and smarter foes, be prepared against strategic mind games and various tricks up your enemy's sleeve.


Wait patiently with your Super Ability charged up and pounce on your foes to deal substantial surprise damage.


Choose your Hunter based on your style of combat. Will you choose Ara's deadly long range sonic waves or Tau's furry but sharp claws?


Deadly Hunters, dangerous demons, and shrinking Blood Barrier will constantly push your limits and test your skills of survival.


During your journey, you can also choose to temporarily cooperate with other Hunters to hunt down Boss demons for rare loot. However, beware as other Hunters can suddenly turn against you and claim all the prize to themselves.

A Merciless Battle Towards Last Hunter Standing

On May 14, discover and survive the lost period of mystical East Asia where ancient demons roam free in the world of Hunter's Arena!
Enter a battle royale in the ancient age of Demon Hunters on May 14.
blog.playstation.com