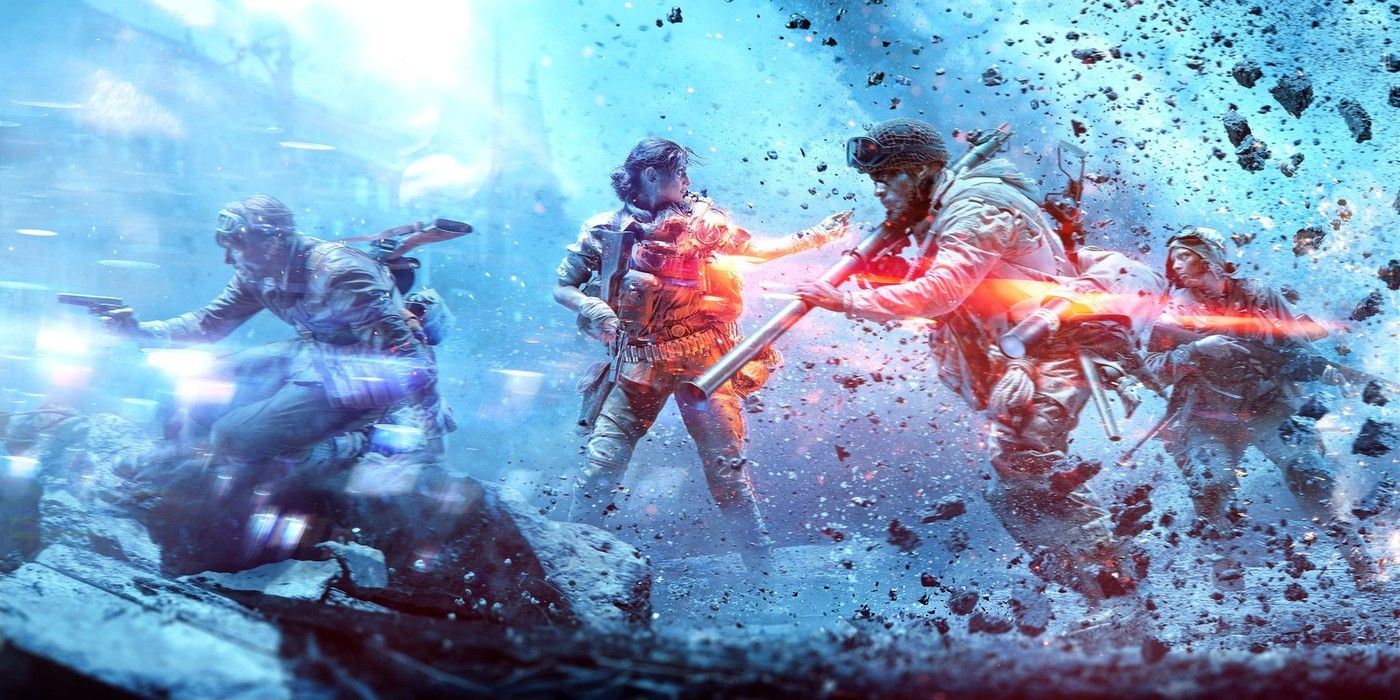 Battlefield 6 and Call of Duty 2021 are coming later this year, and the competition between the two massive shooters is only just beginning.
gamerant.com
Battlefield 6 and Call of Duty 2021 are coming later this year, and the competition between the two massive shooters is only just beginning.
Battlefield 6 and Call of Duty 2021 will seem the two FPS juggernauts battling it out for the first time since 2018. Intriguingly, while both projects are set to debut at the end of the year, neither has been revealed by EA or Activision. As such, fans know truly little about the projects. For Battlefield, only a holiday release window and larger player count have been mentioned by EA. Information is even more scarce for the next Call of Duty, with Activision only confirming that Sledgehammer Games would develop the title last week.

However, despite Battlefield 6 and Call of Duty 2021 info being so limited, the competition between the pair is already starting to heat up. With a Call of Duty game finally confirmed for 2021, and Battlefield 6's reveal being imminent, things are about to pick up for this year's competition. With the lead-up to release for both games only going to see comparisons getting more intense, it will be interesting to see which franchise takes the lead at the start of the new console generation. Call of Duty 2021's Official Announcement



Over the past several weeks, Call of Duty fans have had good reason to doubt whether the game would release at all. Several sources reported that the game was struggling behind these scenes, with leakers like Tom Henderson even claiming that there is already a recovery road map in place. Some insiders have even been suggesting that Call of Duty 2021 would be canceled — with Call of Duty: Modern Warfare 2 Multiplayer Remastered taking its place. While it remains to be seen if there is some truth to the game's issues, Activision has dispelled any doubts regarding a new Call of Duty releasing this year.

While details are limited, Activision has confirmed that a brand-new Call of Duty game is going to release in 2021. Further, developer Sledgehammer Games will helm the title, proving several leaks from earlier in the year correct. While no date was specified, the Call of Duty series has always seen its games launching between October and November. Pairing this information with Battlefield 6's holiday release ensures that the two games will likely be launching right around the same time, with the two locking horns as they battle for sales supremacy to close out the year.

Further, Call of Duty 2021 has been confirmed to feature integration with Call of Duty: Warzone. While the previous integration did not go smoothly, the overall goal of adding fresh content to the game was accomplished. With this announcement, Activision is confirming that Call of Duty: Warzone will continue to be a major focus, putting further pressure on DICE. Battlefield 6's potential battle royale mode has been discussed heavily, though it remains unconfirmed at this point in time. However, this extended support for Call of Duty: Warzone essentially serves as a challenge to DICE and EA. If Battlefield 6 has no battle royale, it could struggle to win over Call of Duty: Warzone fans. If it does include the popular mode, though, it automatically has an uphill battle due to Call of Duty: Warzone's popularity. Battlefield 6's Incoming Reveal

While Call of Duty may already be leveraging the success of Call of Duty: Warzone in the competition, Battlefield's early reveal may give it an advantage of its own. Based on the most recent information from leakers, Battlefield 6's grand reveal is set to come at the end of May or the start of June. While this is not official and is subject to change, a spring reveal was previously announced, making the rumor likely. As such, Battlefield 6 will be able to get out in front of the new Call of Duty, getting the attention of FPS fans long before its competition ever has the chance to do so.

Not only do Call of Duty 2021's supposed development struggles make an early reveal less likely, but leaks have indicated that the game will be revealed far closer to its actual release. Like Call of Duty: Black Ops Cold War's reveal, an event inside Call of Duty: Warzone could take place to help build up the hype. This certainly has its benefits, as players can try the game out via a beta shortly after its official reveal. The wait also feels shorter, which is always a benefit. At the same time, Battlefield 6's strategy makes more sense for an actual competition. With Battlefield 6 screenshots and trailer audio leaking, fans already have an idea of what to expect from the incoming reveal.

When the footage and information does come, DICE will have the chance to win Battlefield fans over long before they even begin thinking about Call of Duty 2021. If the reveal impresses, gamers could lock themselves into a purchase of Battlefield 6, choosing the game as their shooter of choice before even seeing Call of Duty's offering. If DICE can keep fans invested until the holidays via consistent updates and trailers, this early review could be a huge win for Battlefield. With the stage all to itself, gamers will be able to give all their attention to EA's flagship shooter. The Road Ahead

Once Battlefield 6 and Call of Duty 2021 are officially revealed, gamers can expect to see plenty of hype-building for each game. Trailers and gameplay breakdowns for each game could even take shots at the competitor, causing the war to heat up even further. Likewise, the two titles may build their marketing around what the other game is lacking, attempting to sway players over to their direction. As has been the case with past entries, both Battlefield 6 and Call of Duty 2021 will likely offer gamers a chance to give them a try via a public beta.

As for as their actual releases are concerned, Battlefield 6 and Call of Duty 2021 are likely going to boast two different strategies. In the case of Battlefield, a next-gen only release has been rumored, with the game prioritizing visuals and taking full advantage of the next-gen platforms. An Xbox Game Pass launch for Battlefield 6 has also been rumored, instantly giving the game access to a healthy player base on the Microsoft platform. As for Call of Duty, leakers have claimed that the project will release on last-gen and current-gen consoles, with this following the pattern established by Call of Duty from 2013-2015. PlayStation exclusivity is likely to continue as well.

Finally, the competition will heat up once again post-launch, with the two sides vying to keep gamers interested. For Call of Duty, fans can expect the game to receive six Seasons of free content, with the hope being that players will stay engaged until Call of Duty: Modern Warfare 2 releases next year. For Battlefield 6, a more long-term strategy could be used. Considering that the game is supposedly only launching on next-gen, yearly releases will not be necessary. Instead, the game will be up to date for some time, with DICE able to support it for years via major updates and changes. While it remains unclear which side will come out on top, the competition between Battlefield and Call of Duty is only going to get more intense as the year goes on.

Battlefield 6 and Call of Duty 2021 are in development for unspecified platforms.